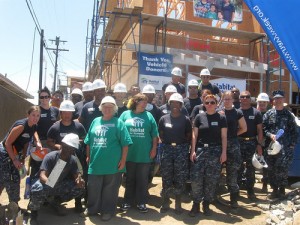 Chad Elbandagji is a Marine and Air Force Veteran who joined AmeriCorps with a willingness to continue serving here at home. He is now the AmeriCorps VISTA Veterans Outreach Coordinator at Habitat for Humanity of Greater Los Angeles (HFH GLA) and is engaging veterans in Habitat for Humanity's work through our Veterans Initiative.
While Chad was at AmeriCorps training he spoke about his role at HFH GLA as a veteran helping veterans and also participated in some media interviews. It was during this training, that Chad made an impression on John Gomperts, who recently wrote a post for the White House blog featuring a quote from Chad!
We are so proud of you, Chad, and the important work you are doing!
Read the post "AmeriCorps Recruiting Our Nation's Heroes" here.
Related Posts:
Habitat for Heroes Program Kickoff
Navy Volunteers Help Build New Homes
Preparing for a Royal Visit
2 Comments for this entry