This summer Habitat for Humanity GLA was fortunate enough to have several interns in our midst, and as they return to school we hope they will take the knowledge they gained from working with us on to the next step in their futures. They have all left their mark on us here at HFHGLA and vise versa!


Meet the interns


Although Justin was originally assigned to the Advocacy and Community Partnerships department, Bank of America asked that we give him a glimpse into how non-profits run and how to lead within them. As a result, Justin was working a week at a time for several of our departments – gaining an understanding of organizational leadership which will come in handy when he returns to Long Beach Renaissance High School for the Arts. Read his blog post here.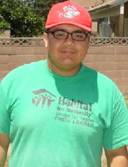 Courtney came in right as the whirlwind of planning for Power Women, Power Tools was coming to a head. She returned to San Diego Christian College with a lot of new event skills and a new understanding of just how many people it takes to run an event like this one – and how little sleep they get until it's over!




Although she has "grown out" of the internship stage with us, Allison still continues to work with Habitat GLA! She has continued her volunteer work in a Legislative and Community Outreach role, where she convinces those with the purse strings that we need their help to continue all of our good work.