Recently the Garcia family  was interviewed by La Opinion. They are one of our amazing and inspiring families who have paid off their mortgage.
Martín y Carmela García nunca creyeron que tendrían su propia casa. Habitat for Humanity los ayudó a que se ese sueño se cumpliera.
Hace 22 años, Martín se enteró del programa ofrecido por esta organización cristiana sin fines de lucro que le permitiría aspirar a convertirse en dueño de una casa.
El programa ofrece una hipoteca, sin intereses, a los futuros propietarios, por lo que las mensualidades resultan económicas y cómodas de pagar.
"Estamos muy felices y nos sentimos muy bendecidos. No tenemos manera de expresar como nos sentimos al tener nuestra propia casa", dijo Martín García. "No necesitamos ganarnos la lotería. ¡Ya la ganamos!", añade emocionado.
A. Jo-An Turman, representante de la fundación, destacó que en los 24 años de fundada, Habitat for Humanity Los Ángeles ha construido más de 500 casas en el área de Los Ángeles.
"Cuando comenzamos solo construíamos 2 o 3 casas al año. Ahora construimos unas 100", dijo Turman. La casa de los García fue una de las primeras.
"Nos dieron 26 años para pagar nuestra hipoteca pero lo pagamos todo antes de tiempo. A los 16 años ya la habíamos pagado", dijo Martín. "Como no era un pago muy alto, tratamos de pagar por adelantado", añadió.
Martín, quien ha trabajado por 28 años en el Centro de Salud Mental y Hospital Gateways en el área de mantenimiento, era el único que aportaba en la casa para los pagos. Pero una vez que Carmela abrió su salón de belleza, pudieron pagar más.
"Mientras más rápido se pague, el programa tendrá más dinero para costear casas para otras familias", dijo Carmela.
Con el dinero que se ahorraron al pagar la casa en menor tiempo, pudieron ayudar a sus dos hijos a costearse sus estudios universitarios. Jason, de 22 años, se acaba de graduar de terapista educativo y Debbie, de 19, comenzará su segundo año de universidad en el otoño.
Turman destaca que el pago de la hipoteca es mucho más bajo que el alquiler de una casa. Generalmente asciende a menos de 1 mil dólares mensuales.
"La hipoteca depende de la cantidad de dinero que pueda pagar la familia", dijo Turman.
El programa está dirigido a familias de bajos recursos económicos, con un buen crédito y que estén trabajando. Después de un proceso de selección, las familias se comprometen a destinar horas voluntarias para ayudar a construir su hogar, además de pagar la hipoteca en el tiempo establecido.
"Yo puse 500 horas de trabajo. Todos los sábados que tenía libre los trabajaba ayudando a construir la casa", dijo Martín, muy orgulloso. "Pero no me importó porque valió la pena", añadió.
Carmela siente que es una bendición haber terminado de pagar la hipoteca siendo aún jóvenes. "Mucha gente muere y no llega a pagar su casa, su hipoteca", dijo la mujer de 48 años. "No está mal para nosotros el haber pagado antes porque ahora solo tenemos que preocuparnos por el impuesto a la propiedad", añadió.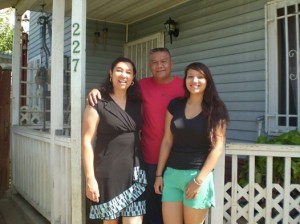 Check out the article from La Opinion here.
Carmela and Martín Garcia never thought they would have their own home. Habitat for Humanity helped them fulfill that dream
22 years ago, Martin learned of the program offered by this Christian nonprofit organization to become a homeowner
The program offers an interest free mortgage (Our mortgages can have interest or be interest free) to future owners, so the monthly payments are affordable and comfortable to pay.
"We are very happy and feel very blessed. We have no way to express how we feel to have our own home," said Martin Garcia. "No need to win the lottery. Already won it!" Adds excitedly.
Jo-An Turman A., representative of the foundation, said that in the 24 years of existence, Habitat for Humanity Los Angeles has built over 500 homes in the Los Angeles area.
"When we began we were only building only 2 or 3 houses per year. Now we build a 100 per year" Turman said. "The Garcia was one of the first built."
"We had 26 years to pay off our mortgage but we paid everything ahead of time.  We paid our mortgage in 16 years" Martin said. "Since our mortgage payment was not very high, we tried to pay in advance," he added.
Martin, who has worked for 28 years at the Gateways Hospital and Mental Health Center in the maintenance, was the only source of income for the household when they purchase their home. Once Carmela opened her salon, they were able to pay more.
"The sooner you pay, the program will have more money to fund other houses for other families," said Carmela.
With the money saved to pay for the house, they are able to help their two children to afford college. Jason, 22, just graduated as an Educational Therapist and Debbie, 19, will begin his second year of college in the fall.
Turman points out that the mortgage payment is much lower than renting a house. Usually amounts to less than $1,000 monthly.(We typically do not quote an amount because all household incomes vary. We say their mortgage is target at 35% of their gross income when they apply.)
"The mortgage depends on the amount of money you can afford," Turman said.
The program is aimed at low-income families with good credit and are employed.(Applicants also need to demonstrate a need for housing) After a selection process, families agree to volunteer hours to help build their or to other homes, in addition to agreeing to pay a monthly mortgage.
"I put 500 hours of work every Saturday helping to build the house," Martin said proudly. "But I did not mind because it was worth it," he added.
Carmela feels it is a blessing to have finished paying the mortgage while still young. "Many people die before they are able to pay their mortgage," said the 48 year old woman. "It not a bad thing that we paid off our mortgage before because now we only have to worry about our insurance and property taxes," he added.
Related Posts:
Lopez Home in Long Beach Built in Partnership with Edison International
Why We Do What We Do
A Hand Up, Not a Hand Out