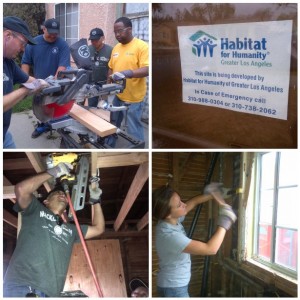 Guest Blog Post by Union Pacific

Today a team of UnionPacific employees celebrated "Earth Day" by
volunteering their time to help a Habitat for Humanity family build their
home in Long Beach, California.
The team kicked off the event at our "ICTF" Intermodal Facility with a
Safety Briefing and breakfast and than carpooled over to the home.
Employees from Claims, Environmental, Intermodal, Corporate Relations,
Mechanical and Marketing and Sales participated.
Our employees worked all day on the home and participated in demolition,
helping with electrical, cutting and installing drywall and associated
clean up duties. The team took a break and ate together during lunch that
was sponsored by Public Affairs.
"I'm proud to work for Union Pacific and I appreciate how our team comes
out to volunteer their time for Habitat for Humanity" said Andy Perez -
Corporate Relations.
The team received a surprise when the first-time Habitat for Humanity
homeowner, Hamid Kushkaki, stopped by to thank Union Pacific
for their help. The day ended safely with our employees cleaning up the
work site.
Union Pacific is a proud supporter of Habitat for Humanity and we
contribute annually with a Union Pacific Foundation Grant and our annual
"Earth Day" volunteer event.
"We are so proud of our relationship with Union Pacific and appreciate how
the employees take time out every year to help the families" said Jennifer
Wise – Vice President of Resource Development – Habitat for Humanity.
Habitat for Humanity seeks to elminate substandard housing and homelessness
from the world, and to make decent shelter a matter of conscience and
action. Habitat for Humanity invites people of all backgrounds, races and
religions to build houses together in partnership with families and
individuals in need.
Habitat for Humanity has built more than 500,000 homes around the world,
providing more than 2 million people in more than 3,000 communities with
simple, sustainable and affordable shelter.
Through volunteer labor and donations of money and materials, Habitat for
Humanity builds simple, sustainable and affordable homes with the help of
the partner homeowners. Habitat for Humanity homes are sold to partner
families at no profit, financed with affordable, no-interest loans. In
addition to a down payment and the monthly mortgage payments, partner
homeowners invest up to 500 hours of labor – called sweat equity – into
building their home and the homes of others.
Related Posts:
Earth Day 2010: Union Pacific's Generous Landscaping Donation
Celebrating Earth Day at L.A. Live
ReStore in Gardena Provides Drop Off Location for Electronics to be Recycled