The response to the Haiti Earthquake has been incredible and inspiring. We are honored to share two programs created by a couple of Hollywood for Habitat for Humanity's ongoing partners and their foundations, Ricky Martin (Ricky Martin Foundation) and Linkin Park (Music for Relief).
Martin was deeply moved by the trip and recorded a video message while he was there. To view it in English click
here
, or view it in Spanish
here
.
There are four ways to support Martin and Habitat for Humanity's rebuilding efforts.
Tex
t
:
Text
'rmfhaiti'
to
25383
to make a $10 donation to the RMF/HFH Haiti Recovery Fund.
Donate:
Click
HERE
to donate any amount you can to the RMF/HFH Haiti Recovery Fund (early responders will win special prizes from Martin)
Bid:
Bid in the auction launching Sunday (1/31) at
Charity Buzz
and help raise funds for families affected by the earthquake.
Advocate:
Put the RMF/HFH Haiti Recovery Fund Banner on your website and help spread the word. Download banners
here
.

Visit
Music for Relief
to download tracks from your favorite artists including: Peter Gabriel, Linkin Park, Dave Mathews Band, Alanis Morisette, Lupe Fiasco, Kenna, Enrique Iglesias, Slash and The All American Rejects. The tracks are available to download for whatever donation amount fans choose to contribute. The compilation will also be released on iTunes with a suggested list price of $1.29/track and $9.99/album.
Artists and songs will be added to this album, breathing new life into the relief effort in Haiti. As Music for Relief's ongoing partner, Habitat for Humanity will be one of the three beneficiaries of this project. Our funds will be allocated to the reconstruction and rebuilding of Haiti in the form of food, water, medical support and long-term sustainable housing. Other organizations benefiting from this program are the UN Foundation/Central Emergency Response Fund and BAMA Works Foundation.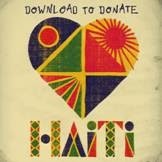 1 Comment for this entry