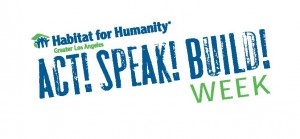 Opening the Doors to Change
DOOR DESIGN CONTEST
A simple door is a universal symbol of home but can also symbolize so much more.  In the spirit of our theme, Opening the Doors to Change, Habitat for Humanity of Greater Los Angeles is sponsoring a door design contest.  Below are guidelines, rules and information on how to participate.
Guidelines:
– Take a common house (or office) door and decorate creatively.
– Consider a theme that reflects your style, personality or spirit.
– Feel free to include key housing facts or statistics; the Habitat for Humanity of Greater Los Angeles website, social media hashtags        and social media handles on the door.
– You can pick up a free door at our Habitat for Humanity of Greater Los Angeles ReStores in Gardena or Norwalk limited on a first         come, first served basis) or you can purchase an inexpensive door elsewhere. Please email our Youth Programs Coordinator at    youthprograms@www.habitatla.org to reserve your door.
Rules:
– The contest is open to youth who are ages 5-19; or currently enrolled in an undergraduate program.
– All entries must be postmarked by 5:00 p.m. on Friday, March 21, 2014. We are not responsible for entries that are late or lost in the mail.
– You must fill out and submit a complete contest entry form and include a photo of your door. If you decorate both sides, please include photos of each with you submission.
– Contest entry form includes additional submission information.
Information
– All entries will be featured on the HFH GLA website.
– All entries will be judged by a panel of artists, affordable housing advocates and community leaders based on creativity, artistic quality, and originality.
– First, Second and Third place winners will be selected from three age groups: 5-12, 13-18, and 19+.
– Winners will be notified upon selection and should be able to deliver their door to showcase location during April 1 – 4th.
– Winners will receive a gift card. First Place: $100; Second Place $75; Third Place $50.
– The winning doors will be displayed for public viewing during ASBW, April 6-12, 2014.
– All winners and their parents/guests will be invited to a special recognition reception.