Guest blog post by Adam Cohen, winner of our NCIS fundraising auction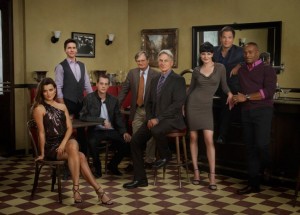 For my 21st birthday, I got the best present of all! My family donated money to Habitat for Humanity of Greater Los Angeles and the organization hooked me up with the experience of a lifetime. On May 1st, I got to have lunch with Jo-An Turman from Habitat for Humanity of Greater Los Angeles and Rocky Carroll, the actor who plays Vance on NCIS. I am a huge fan of the show and I watch it with my family whenever I come home from college; it's one of my favorite things to do with my mom and sister. I also watch it when I'm procrastinating for a bit, or need a break from studying.

When we got to the lunch, I was happily surprised to see that Leon Carroll was there too. He is a real NCIS agent and the consultant on the show. At first, I was overwhelmed and didn't talk much because I felt like I was watching the show and everything that was happening. It's pretty crazy to meet people that you watch on TV all of the time. After a bit I was able to come out of my shell and join in on the conversation. It was fun learning more about the show, the real NCIS, and about Rocky and Vance as people. They are some pretty nice dudes and really chill. We talked about sports, family, school… Everyone was so nice; Rocky even called my mom while we were eating because she is a huge fan of the show as well.

It was a great experience and I hope that one day I can come back to L.A. and maybe visit the set. It gets even better! I didn't just get to eat lunch with the group, they gave me a script for episode 174, Recruited, that was signed by the entire cast and Rocky gave me a sweat shirt and a challenge coin! Just like in the show, the coin sweetened the deal even more; I didn't have to pay for lunch.
Related Posts:
Lakers Ball Boy Experience
Two Power Women Talk About Why They Believe in Habitat
General Hospital's Resident Bad Boy Does Good for Habitat GLA