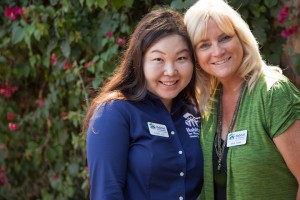 (l-r) Isabel Lee & Erin Rank
Isabel Lee recently celebrated her 10th anniversary with Habitat for Humanity of Greater Los Angeles so we thought it fitting to shine a spotlight on her. Isabel is a joy to work with and a valuable member of our team. She truly is the sunshine that helps our garden grow.
Q: How long have you worked at HFH GLA?
A: This year marks my 10 year anniversary.
Q: What inspired you to join a nonprofit?
A: I was part of a community service group in college and we worked really closely with a local non-profit that helped with social services. I ended up working there part-time until I finished college and wanted to continue to work where I could make a difference in someone's life.
Q: Tell us about the growth you've witnessed with your affiliate.
A: It's been really amazing to see our affiliate grow to this size and capacity. When I started, there were only about 6-7 staff members and now I'm hard pressed to keep track of all of our 70+ staff members. I love that we help more and more families every year.
Q: Tell us about some of the families you've worked with.
A: I've met some incredible partner homeowners over the years and it's always inspiring to be with them. Last year, our partner family in Cambodia, who didn't speak English and had only smiled at us when we introduced ourselves the day before, came up to me in the middle of the day and gave me the biggest hug and said "Thank you, I love you." She then went and said it to every single person helping to build her home and I know we all agreed that it made being in that blistering heat completely worth it.
Q: Tell us about where in the world you've traveled to build homes.
A: I've had the honor to travel to lots of interesting places, some that I never even thought that I would visit or knew about – Houma, Louisiana, Thailand, Cambodia. Each time I come back inspired by the work that I've witnessed and helped with. Habitat's work makes an even bigger impact in some of these places and seeing what can be done in such a short amount of time for families is like watching a miracle happen.
Q: What does "home" mean to you?
A: Home means a safe haven…a place no one should be without.
Q: Do you have a favorite memory in your 10 years?
A: Probably one of my favorite memories was when we hosted the Jimmy and Rosalynn Carter Work Project in Los Angeles in 2007. It was a lot of work and long nights of preparation, but watching everything come together was almost like magic. I never slept so little in one week but the energy of all the volunteers from all over the world and the excitement of hosting such a large event definitely kept all of us going. I'll always think back on that week and have something to smile about.
Thank you, Isabel, for your years of service and friendship!
Related Posts: