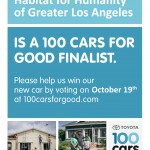 Toyota to Donate Vehicles to Local Nonprofit Organizations Based on Public Votes 
Los Angeles, CA – October 17, 2013:  Habitat for Humanity of Greater Los Angeles (HFH GLA) is one of 250 finalists in Toyota's 100 Cars or Good Program, which will award vehicles to 100 nonprofit organizations based votes from the public.  Toyota's 100 Cars for Good program is showcasing five nonprofit organizations a day for 50 days at Facebook.com/Toyota.
Visitors to the page will receive two votes each day to select two separate winning organizations they feel are most deserving of new Toyota vehicles.
Habitat for Humanity of Greater Los Angeles will be one of five organizations highlighted on Saturday, October 19th, 2013.
Local residents are encouraged to support HFH GLA in the quest for a new Toyota Tundra.  If HFH GLA receives the most votes and is awarded the vehicle, it will be used to supply volunteers with the tools needed to build more affordable and sustainable homes throughout Greater Los Angeles.
About Habitat for Humanity of Greater Los Angeles
Habitat for Humanity of Greater Los Angeles (HFH GLA) strives to eliminate substandard housing through advocacy, education and partnership with families and individuals in need to build decent, sustainable and affordable housing. Since 1990, HFH GLA has built and renovated more than 800 homes locally and worldwide, transforming the lives of hundreds of individuals. HFH GLA is a GuideStar® Valued Partner and has achieved the coveted Charity Navigator 4-Star rating awarded to non-profits for sound fiscal management and commitment to accountability and transparency. For more information, please visit http://www.habitatla.org or call 310-323-4663. Visit our blog at http://buildingagreaterla.blogspot.com.
About Toyota:
Toyota (NYSE: TM) established operations in the United States in 1957 and currently operates 10 manufacturing plants.  Toyota directly employs over 31,000 in the U.S. and its investment here is currently valued at more than $23 billion, including sales and manufacturing operations, research and development, financial services and design. Toyota is committed to being a good corporate citizen in the communities where it does business and believes in supporting programs with long-term sustainable results. Toyota supports numerous organizations across the country, focusing on education, the environment and safety.  Since 1991, Toyota has contributed nearly $700 million to philanthropic programs in the U.S.
For  more  information  on  Toyota's  commitment  to  improving  communities  nationwide,  visit
http://www.toyota.com/philanthropy.
# # #
Media Contacts:
Jo-An Turman
HFH GLA
424-246-3175
Angela Moore
310-429-8868