Funds will Provide Gift Baskets to 40 Hardworking, Low-income Partner Families this Holiday Season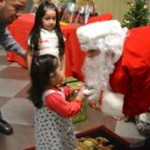 Los Angeles, CA – November 19, 2013: The Adopt-A-Family Holiday Program is making the holidays a little brighter for some of the families served through the Habitat for Humanity of Greater Los Angeles (HFH GLA) Homeownership and Home Repair Programs.  These families are low to very low-income, in many cases earning less than half of the average median income in Los Angeles County, and have partnered with HFH GLA. This year's participants consist of over 100 children, senior citizens, disabled, veteran and military families. A donation of $250 will sponsor an entire family; however a monetary or gift card donation of any amount will help HFH GLA spread holiday cheer.  All donations are tax deductible and must be received by December 2, 2013.
"We are so proud of our partner homeowners who have worked so hard to purchase or repair their homes and who continue to give back and pay it forward with us as volunteers," said Erin Rank, President and CEO.  "The Adopt-A-Family Holiday Program will make a huge difference in the lives of these families. Together with your donation, we will be able to bring joy to over 40 hardworking, low-income families this holiday season."

Celebrate the season of giving by making a donation and/or fundraising with friends, family, and co-workers to adopt one or more HFH GLA partner families.  Click here now to donate. 
HFH GLA partners with hardworking low-income, first time homebuyers, who agree to pay back a zero-interest mortgage and contribute 200-500 hours of sweat equity building or renovating Habitat homes. HFH GLA also helps low-income homeowners restore and maintain their homes through its Home Repair Program.  The Adopt-A-Family Holiday Program provides an opportunity to engage the community to celebrate these accomplishments during the holiday season.
Donations may be made to the "Adopt-A-Family Holiday Program" online or by making checks payable to Habitat for Humanity GLA and sending to: 17700 S. Figueroa St. Gardena, CA 90248, Attention: Adopt-A-Family Holiday Program. Donations must be received by December 2, 2013. For more information please contact Sylvia Bautista via email or 424-246-3645.
Everyone is encouraged to share this opportunity to make a difference with friends, family and neighbors on Facebook, Twitter and Google+ to help ensure that all 40 families experience a magical and memorable holiday season.
About Habitat for Humanity of Greater Los Angeles
Habitat for Humanity of Greater Los Angeles (HFH GLA) strives to eliminate substandard housing through advocacy, education and partnership with families and individuals in need to build decent, sustainable and affordable housing. Since 1990, HFH GLA has built and renovated more than 900 homes locally and worldwide, transforming the lives of hundreds of individuals. HFH GLA is a GuideStar® Valued Partner and has achieved the coveted Charity Navigator 4-Star rating awarded to non-profits for sound fiscal management and commitment to accountability and transparency. For more information, please visit http://www.habitatla.org or call 310-323-4663. Visit our blog at http://buildingagreaterla.blogspot.com.
# # #
Media Contacts:
Jo-An Turman
Habitat for Humanity GLA
T: 424-246-3175
Angela Moore
T: 310-429-8868