Habitat for Humanity of Greater Los Angeles Announces "4th Annual General Hospital Fan Build: A Tribute to John Ingle"
 GH Cast Members will Raise Money & Build Alongside Fans February 9th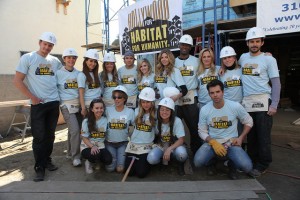 Los Angeles, CA – December 12, 2012:  Fans of the long-running, ABC daytime drama, General Hospital will once again have the opportunity to spend a day building a Habitat for Humanity home with their favorite cast members.  The 4th Annual General Hospital Fan Build has been announced for Saturday, February 9, 2013 in Los Angeles.  This year's event will pay tribute to the late John Ingle, the beloved actor who portrayed Edward Quartermaine on the show.
On Saturday, February 9th, Habitat for Humanity of Greater Los Angeles (HFH GLA) will host the 4th Annual General Hospital Fan Build Day as part of its entertainment partnership program, Hollywood for Habitat for Humanity (HFHFH).  General Hospital cast members are donating their time and talents to help build affordable and sustainable housing alongside their fans. Fans may register here for a limited number of build spots online for a minimum donation of $300.
General Hospital Fan Build Days originated in 2009 with Brandon Barash and Lisa LoCicero who created the event as a way to reward loyal fans of the show, while becoming more involved with Habitat for Humanity.  Each year cast members and fans enjoy a day of building a home and raising awareness for affordable housing.  This year, the cast members decided to honor their co-star and friend John Ingle by dedicating the event to him. Ingle, who was a big supporter of Habitat for Humanity and this special event, will be remembered in a moment of silence during the lunch presentation.
General Hospital cast member volunteers confirmed to attend include:
Jane Elliot (Tracy Quartermaine)
Nancy Lee Grahn (Alexis Davis)             
Jen Lilley (Maxie Jones)
Lisa LoCicero (Olivia Falconeri)
Kelly Sullivan (Kate Howard)
Jason Thompson (Dr. Patrick Drake)
Dominic Zamprogna (Dante Falconeri)
A limited number of build spots have been made available on a first come first served basis. In addition to building with fans, several cast members have donated exclusive "VIP experiences" for an online auction on Charity Buzz, which will begin in January 2013. The 4th Annual General Hospital Fan Build Day will take place Saturday, February 9, 2013 at an undisclosed location in greater Los Angeles. Registered volunteers must be at least 18 years old.  Register here to attend.
HFH GLA builds decent, sustainable and affordable homes in partnership with hardworking, low-income families and individuals who agree to pay back a zero-interest loan and volunteer up to 500 hours of sweat equity in the building of their home.
Habitat for Humanity of Greater Los Angeles (HFH GLA) strives to eliminate substandard housing through advocacy, education and partnership with families and individuals in need to build decent, sustainable and affordable housing. Since 1990, HFH GLA has built and renovated nearly 800 homes locally and worldwide, transforming the lives of hundreds of individuals. HFH GLA is a GuideStar® Valued Partner and has achieved the coveted Charity Navigator 4-Star rating awarded to non-profits for sound fiscal management and commitment to accountability and transparency. For more information, please visit http://www.habitatla.org or call 310-323-4663. Visit our blog at http://buildingagreaterla.blogspot.com.
 # # #
Media Contacts:
Jo-An Turman
HFH GLA
O: 424-246-3175
C: 310-749-6613
Angela Moore
310-429-8868