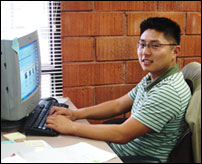 Most often when people consider volunteering with Habitat for Humanity, they believe that will require back-breaking effort involving window installations and climbing on roofs. The truth is there are so many different ways to volunteer, and one of the most needed at this time is office help.
If you have a few days a week that you aren't in class, or you work part time and you want to hone your office skills and help out an amazing cause, please contact us! No ladder climbing required! We would love to hear from you and help you become an important part of our volunteer and Intern network.
You can learn more about more about our Internship programs (how many hours, college-credit etc.) online. Or e-mail us at:
Contact HabitatGLA@gmail.com or Dlewis@habitatla.org.