On eve of L.A. Auto Show, teamGM Cares Volunteers to perform critical home repairs

Thursday Nov. 21, 2013  Los Angeles – The General Motors Foundation is partnering with Habitat for Humanity of Greater Los Angeles to work alongside a North Long Beach Habitat family to make critical repairs to their home. The project is one of 12 made possible across the U.S. this year by a $1 million grant from the GM Foundation to Habitat for Humanity International. 
"We are committed to helping families and strengthening communities across the U.S. through our work with Habitat for Humanity International," said GM Foundation President Vivian Pickard. "Our teamGM Cares employee volunteers are passionate about giving back and find the hands-on work of home repair and neighborhood revitalization extremely rewarding."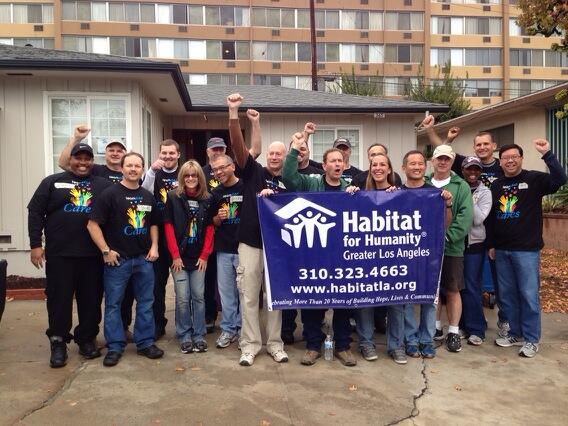 Leading the work that includes painting, landscaping and interior finishing work are 20 teamGM Cares volunteers from GM's Thousand Oaks regional sales office and parts distribution center. The volunteers will be working in North Long Beach on Thursday from 8:00 a.m. until 3:30 p.m.
"We are grateful to the GM Foundation for the support it gives to affordable housing and we are thrilled to have the teamGM Cares volunteers partner with us in North Long Beach," said Erin Rank, president and CEO, Habitat for Humanity of Greater Los Angeles. "Our Home Repair Program helps hardworking, low-income homeowners alleviate health and safety issues at home by providing much needed repairs and improvements. Thanks to the support of organizations and volunteers, we're changing lives and communities."
To date, similar projects in partnership with local Habitat for Humanity affiliates have taken place in New Orleans, Lansing, Chicago, Arlington, Atlanta, Nashville, Detroit, Denver, and Austin.
About Habitat for Humanity of Greater Los Angeles
Habitat for Humanity of Greater Los Angeles (HFH GLA) strives to eliminate substandard housing through advocacy, education and partnership with families and individuals in need to build decent, sustainable and affordable housing. Since 1990, HFH GLA has built and renovated more than 900 homes locally and worldwide, transforming the lives of hundreds of individuals. HFH GLA is a GuideStar® Valued Partner and has achieved the coveted Charity Navigator 4-Star rating awarded to non-profits for sound fiscal management and commitment to accountability and transparency. For more information, please visit http://www.habitatla.org or call 310-323-4663. Visit our blog at http://buildingagreaterla.blogspot.com.
About Habitat for Humanity International
Habitat for Humanity International's vision is a world where everyone has a decent place to live. Anchored by the conviction that housing provides a critical foundation for breaking the cycle of poverty, Habitat has helped more than 4 million people construct, rehabilitate or preserve homes since 1976. Habitat also advocates to improve access to decent and affordable shelter and supports a variety of funding models that enable families with limited resources to make needed improvements on their homes as their time and resources allow. As a nonprofit Christian housing organization, Habitat works in more than 70 countries and welcomes people of all races, religions and nationalities to partner in its mission. To learn more, donate or volunteer visit habitat.org.
About the General Motors Foundation
Since its inception in 1976, the GM Foundation has donated hundreds of millions of dollars to American charities, educational organizations and to disaster relief efforts worldwide. The GM Foundation focuses on supporting Education, Health and Human Services, Environment and Energy and Community Development initiatives, mainly in the communities where GM operates.  Funding of the GM Foundation comes solely from GM.  The last contribution to the GM Foundation was made in 2001. For more information, visit www.gm.com/gmfoundation.
###
CONTACTS:
Maria Mainville
GM Foundation Communications
313-573-7794
Jo-An Turman
HFH GLA
424-246-3175