Action Alert!
We need your help!
Assemblymembers David Chiu and Tony Thurmond proposed a one-time, $1.3 billion investment of California's budget surplus funds to address California's housing affordability crisis.  The deadline for the Legislature to pass the budget bill is rapidly approaching and budget negotiations are underway. To pass the budget bill, both houses of the Legislature must come together in agreement. Those weilding the most power are members of the Budget Conference Committee.
How you can help?
For the next few weeks up to June 15th we will be tweeting to key members of the Budget Conference Committee (Speaker Rendon, Asm. Nazarian and Asm. Phil Ting) asking them to invest $1.3 billion of the state's budget surplus for affordable housing.
Below are tweets you can simply copy, paste and send.
@JerryBrownGov's #MayRevise includes no new $ to address severe housing crisis. @Rendon63rd support Asm's #CAbudget housing proposal.
@JerryBrownGov's #MayRevise includes no new $ to address severe housing crisis. @Asm_Nazarian support Asm's #CAbudget housing proposal.
@JerryBrownGov's #MayRevise includes no new $ to address severe housing crisis. @PhilTing support Asm's #CAbudget housing proposal
That's all you have to do!  Thanks for taking action beginning now through June 15, 2016 and for your support.
Volunteer Opportunity
The Secretary of State is seeking volunteers to serve as Election Observers for the upcoming June 7, 2016, Presidential Primary Election.
Election Observers – locations throughout the state
Volunteers are needed with good writing and observation skills to work as Election Observers throughout the state on Election Day. Travel expenses, hotel accommodations, and meals will be reimbursed for volunteers (state rate applies), who will be expected to spend the entirety of Election Day observing election procedures.
Duties will involve the following:
Attend a Pollworker Training course in assigned county before Election Day
Attend a one-hour Secretary of State Training session (via teleconference)
Visit approximately 20-25 polling places on Election Day, from 6:30 a.m. to 10:30 p.m.
Submit checklists and write a post-election report of your experiences
Volunteers should also have:
A private vehicle to use on Election Day (mileage reimbursed)
GPS or navigation equipment for vehicle (or on smartphone)
A personal cell/smartphone for use
Interested?  Please contact Jon Ivy at jivy@sos.ca.gov or by phone at (916) 695-1851.
Advocate
Help us to create a world where everyone has a decent place to live.
Make your Voice for Humanity Heard. Become an Advocacy Ambassador!
Take Action! Be the Change! Build Louder!
Habitat LA's mission is to build hope, lives and communities by building, renovating and repairing homes for people in need as well as uniting individuals around the importance of affordable housing. That is why we challenge government, faith communities, corporations and volunteers to raise their voices and pens along with their hammers to solve the housing crisis here in Los Angeles County and across the globe!
Join us in building a movement to eradicate poverty housing from our communities and neighborhoods and to realize our vision of a world where everyone has a decent place to live. Become an Advocacy Ambassador click here to take the next step in Building Louder.
What is Advocacy?
Advocacy is the effort to influence an outcome such as a policy decision, allocation of resources, or the passage of legislation. There is a lot we can do:
• Lobbying
• Research
• Policymaker Outreach
• Public Education
• Policymaker Education
• Coalition Building
• Media Outreach
Why and How Habitat LA Advocates
Advocacy is vital to advance our mission through public policies, programs and funding. Habitat LA advocates public policy positions that accelerate progress toward decent, sustainable and affordable housing in addition to improving the quality of life for the economically challenged — families, seniors, veterans and individuals.
As a non-profit organization, Habitat LA does not endorse specific candidates or political parties. We support broad-based and practical policy solutions that stand the best chance of producing and preserving the largest number of affordable homes for people in LA County.
Non-Profit Lobbying: A Protected Right
Non-profit advocacy and lobbying are perfectly legal but don't feel like you have to believe us. Read for yourself how the U.S. Constitution, Congress and the IRS have protected the rights of non-profits to engage in advocacy and legislative lobbying. For more information click Federal Law Protects Nonprofit Advocacy.
How You Can Help!
To advance its advocacy agenda, Habitat LA encourages its volunteers, donors, friends and supporters to contact their elected representatives to share the impact that safe, sustainable and affordable homes have on millions of Americans each year and urge responsible policies that will address the serious lack of affordable housing.
Become a Habitat LA Ambassador.
Raise your hammer and your voice to call attention about the need for safe, sustainable and affordable housing for all. Click here to receive periodic action alerts and important updates; invitations to advocacy events and opportunities to voice your support.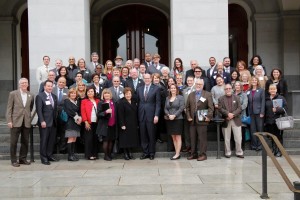 Did you know?
California has the second lowest homeownership rate of any state in the nation.
LA County leads the nation in housing unaffordability; negatively affecting public health and driving up demand for county services.
Over 44,000 men, women and children are homeless every night in the County. This is a 12% increase from two years ago.
LA County is home to seven of the top ten zip codes with the worst housing overcrowding in the nation.
Despite the growing need for affordable homes, local funds for creating them have been cut by $230 million per year since 2008.