Advocate
Help us to create a world where everyone has a decent place to live.
Make your Voice for Humanity Heard. Become an Advocacy Ambassador!
Take Action! Be the Change! Build Louder!
Habitat LA's mission is to build hope, lives and communities by building, renovating and repairing homes for people in need as well as uniting individuals around the importance of affordable housing. That is why we challenge government, faith communities, corporations and volunteers to raise their voices and pens along with their hammers to solve the housing crisis here in Los Angeles County and across the globe!
Join us in building a movement to eradicate poverty housing from our communities and neighborhoods and to realize our vision of a world where everyone has a decent place to live. Become an Advocacy Ambassador to take the next step in Building Louder.
2017 Advocacy Platform
Advance homeownership opportunities for lower-income households
Promote access to a range of safe, healthy, affordable housing options
Promote financial stability for individuals and families
Cultivate and preserve healthy and vibrant communities
What is Advocacy?
Habitat for Humanity defines advocacy as changing policies and systems to eliminate barriers to adequate, affordable housing in order to create a world where everyone has a decent place to live. There is a lot we can do:
Why and How Habitat LA Advocates
While not visible like homes themselves, laws, regulations and rules about land and building are a major part of housing. Smart policies and systems can promote access to decent housing while other policies and systems may create unnecessary barriers. The barriers may make it harder than it needs to be to find land for construction, build the home itself or be able to afford a place to live. The essence of advocacy is not accepting shortcomings in current policy, but rather working to shape it in a way that supports people in need of adequate housing.
How You Can Help!
To advance its advocacy agenda, Habitat LA encourages its volunteers, donors, friends and supporters to contact their elected representatives to share the impact that safe, sustainable and affordable homes have on millions of Americans each year and urge responsible policies that will address the serious lack of affordable housing.
Become a Habitat LA Ambassador.
Raise your hammer and your voice to call attention about the need for safe, sustainable and affordable housing for all. Sign up for periodic action alerts and important updates; invitations to advocacy events and opportunities to voice your support.
Non-Profit Lobbying: A Protected Right
The U.S. Constitution, Congress and the IRS protect the rights of non-profits to engage in advocacy and legislative lobbying. For more information click here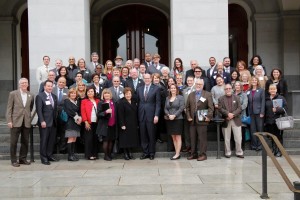 Did you know?
California has the second lowest homeownership rate of any state in the nation.
LA County leads the nation in housing unaffordability; negatively affecting public health and driving up demand for county services.
Over 44,000 men, women and children are homeless every night in the County. This is a 12% increase from two years ago.
LA County is home to seven of the top ten zip codes with the worst housing overcrowding in the nation.
Despite the growing need for affordable homes, local funds for creating them have been cut by $230 million per year since 2008.