This past Friday was a wonderful day of building and sharing. We had some very dedicated and hardworking volunteers from AEG, Sony and Paradigm join us at our Lynwood build site as part of the Entertainment Industry Foundation's (EIF)
iParticipate week
, which launched their
iParticipate
Campaign to shine a spotlight on the importance of community service.
Because iParticipate week was about creating a buzz around the importance of volunteering we asked everyone to "share the good" throughout their build day in our inaugural and very official Tweet Zone. Throughout the day we shared experiences, pictures and video on our social networking pages.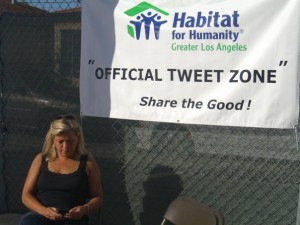 In addition to helping us share the good, volunteers took on tough construction projects without blinking an eye. You wouldn't know it from this video, but before volunteering with us these ladies had never used a jackhammer!
There was also a great group of volunteers from Sony who spent all day packing and leveling soil with shovels and a large soil tamper and never lost their fantastic sense of humor! They took a much needed break from all that "dirty work" to record a special video for us.
All of the volunteers were excited to be building homes for deserving families and were through the roof that all the homes are going to be green homes. Joel, an agent from Paradigm, talked to us about what green usually means in his business and what green meant to him on Friday.
Not only did AEG have volunteers building on Friday and Saturday, they also donated TVs from Staples Center for the Lynwood homes. In this video from Friday Jennifer Lynch of AEG talks about what Habitat for Humanity GLA means to AEG and how AEG supports us throughout the year.
If you would like to see all the pictures, video and good that was shared that day (including a delicious lunch catered by Homegirl Industries) visit our Twitter, Facebook and Youtube pages!