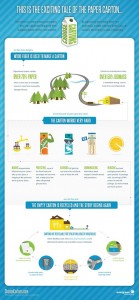 We are big believers in making small changes because we know that they can add up to have a big impact! One very easy change that everyone can make is buying products that are packaged responsibly. Evergreen Packaging is on a mission to spread the word that packaging matters with its recently launched interactive website and campaign, called choosecartons.com.
Buying products packaged in carton is a responsible choice because cartons are made with renewable materials and also can be recycled to make products such as tissue, office paper, wall boards and other building materials.
By joining the Choose Cartons conversation on Facebook and Twitter, you will learn all about the many benefits of cartons while helping to benefit Habitat for Humanity at the same time. Click here to share the Carton Story and once it is shared 1, 500 times, Evergreen Packaging will make a $15,000 donation to Habitat for Humanity.
Related Posts:
Flair Cleaners Puts a New Twist on their Annual Holiday Clothing Drive
NCIS Once in a Lifetime Experience
Another Thrivent Home is Underway in Lynwood