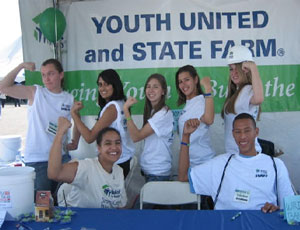 There are many ways that young people ages 5-25 can make a difference. Youth United is a Habitat for Humanity program that brings community youth together to fully sponsor and build a Habitat Home. The youth are the leaders, planners, fundraisers, public relations specialists and builders in this program. Youth ages 5 to 25 work together to raise money and awareness while youth ages 16 to 25 build the house. The program helps to teach young people to become leaders and people from different ages, backgrounds, faiths and organizations to work together.

Through Youth United, youth can…
Fundraise through Nickels for Nails,
Advocate by participating in Act! Speak! Build! Week 2008,
Partner with Habitat by forming a campus chapter on their high school or college, Build on the Youth United home if they're 16-25, and
Engage in various age-appropriate activities if they're younger.

Over one hundred schools, families, and youth groups have been involved with Habitat for Humanity Greater Los Angeles this school year, and literally thousands of students have gotten involved. Th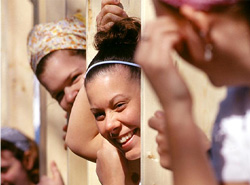 e future is Building a Greater Los Angeles! Be a Part of it!
Check out our Habitat for Humanity Building a Greater Los Angeles' Youth Programs Website. For more information contact Shoshana Daniels, Youth Programs Coordinator at 310-323-4663 etx. 109
Read ALL the ways you can work with Habitat:
Tip #1: Go Shopping Tip #2: Have a Yard Sale Tip #3: Write a Check Tip #4: Donate a Vehicle Tip #5: Donate Building Materials Tip #6: A Brush with Kindness Tip #7: Donate to our Home Store Tip #8: Sell on eBay Tip#9: Creative Fundraising Tip #10: Corporate Community Relations Tip #11: Become a Family Mentor Tip #12: Donate Land Tip #13: Give Professional Skills Tip #14: Advocate & Speak Out Tip #15: Join a Committee Tip #16: Build with Us